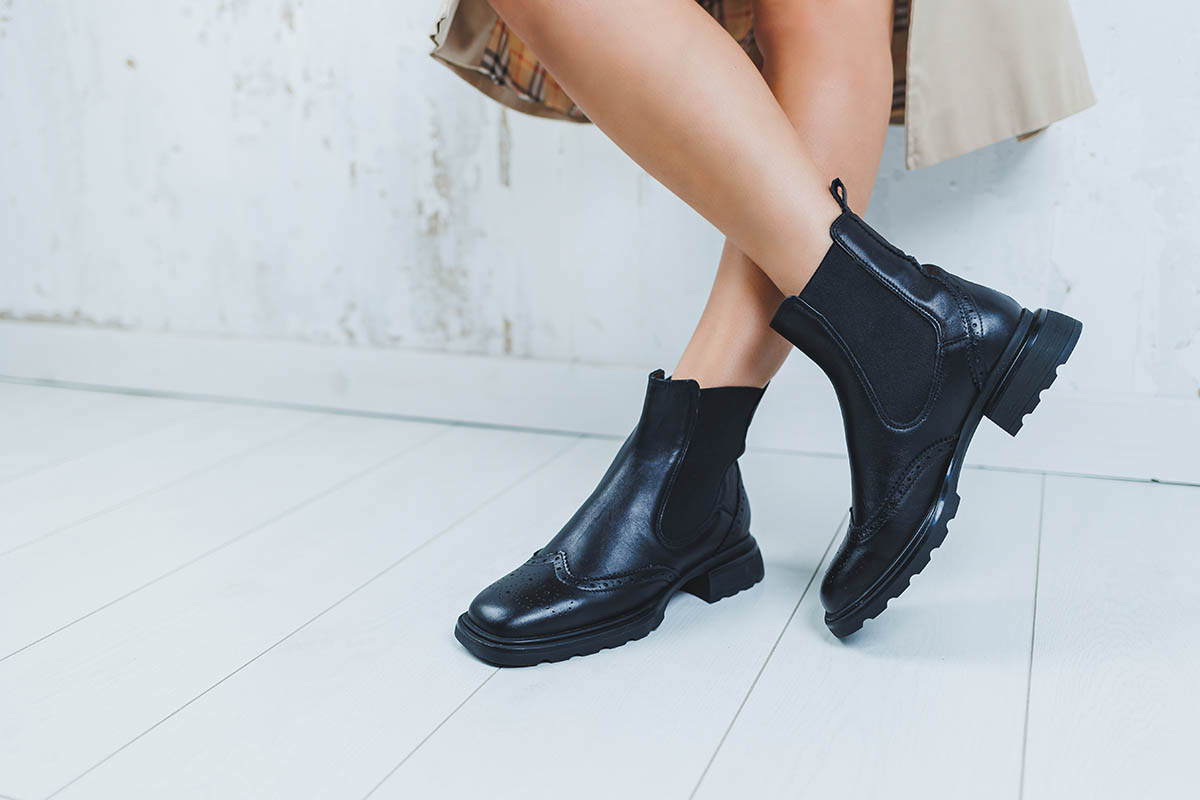 Podiatrist-Approved Comfort and Style
Finding shoes that are both functional and aesthetically pleasing might feel like an uphill battle at times. The Chelsea boot, on the other hand, has become a favorite of both podiatrists and fashionistas. This blog will discuss the benefits of wearing Chelsea boots and will feature several pairs that successfully merge practicality and elegance. You no longer have to choose between fashion and your feet's health.
Podiatrists often suggest Chelsea boots because their slip-on style eliminates the need for laces or buckles, both of which can cause discomfort and pressure points. The low-heel design of these boots aids stability and eases stress on the feet and ankles. Chelsea boots are popular because they are easy to put on and take off due to the elastic side panels. The high cut of Chelsea boots at the ankle also protects against twists and sprains.
When shopping for fall boots, what specific foot support characteristics should you prioritize?
Appropriate size: The best time to shop for shoes is actually towards the end of day, where your feet may be uncomfortable and swollen. If the shoes are comfortable for your feet when they're at their most swollen, then they will more than likely be comfortable the whole day long. Using a Brannock device to measure your feet for length and width is also important for zeroing in on the right size. Keep in mind that sizing differs based on the brand, as each tends to use different materials and designs. Another thing to remember is that a person's feet will change in terms of length and width as time goes by. You should minimally try three separate shoe models, trying two models simultaneously, wearing a different shoe for each foot. The amount of space that should fit between your longest toe and the end of the shoe is about the tip of one of your thumbs. The toe box should also be wide enough to comfortably fit all of your toes, giving them sufficient room to wiggle slightly. If your toes can't move at all, the shoe is too tight and will cause pain and discomfort down the line.
Comfortable: Make sure the footbed, collar, and tongue are well-padded and comfortable.
Wide Toe Box: Make sure the toe box can comfortably accommodate your forefoot and that you have enough room to wiggle your toes, especially if you have a wide forefoot and suffer from bunions and hammertoes.
Arch support: Make sure the boots have comfortable footbeds that support your arches. Some great options include memory foam or EVA (ethyl vinyl acetate) anti-compression insoles that provide added comfort and shock absorption. Some boots may have removable insoles that allow you to add custom orthotic insoles for additional comfort and support.
Deep Heel Cup: A deep heel cup will help maintain proper foot alignment and ankle stability.
Ankle Support: Look for boots that have a comfortable snug heel collar to provide adequate ankle support.
Quality Outsole: Look for a shock-absorbent outsole made of quality rubber to alleviate the impact of each step. Look for a sole with good traction and a thread pattern to prevent slips and falls.
Supportive and Durable: Always look for shoes that offer protection and durability, while balancing that with their flexibility and comfort. Try for shoes that have solid, smooth leather uppers with high durability, flexibility, and comfort.
Insulation: Look for boots made with insulation to keep your feet warm in the winter.
Water Resistant: During the fall, you will be exposed to more moisture, so it is important to look for boots that are waterproof or water-resistant.
Heel Height: Heel height should not exceed 1.5 inches. Lower heels will be more supportive and comfortable.
What is the recommended fit for Chelsea boots, and are they suitable for both wide and narrow feet?
Chelsea boots are suitable for both wide and narrow feet. Chelsea boots are designed to have a snug fit around the foot and ankle, but they should not feel tight. As mentioned above, shoes should always be appropriately sized with a wide-toe box. They should feel comfortable and be supportive. Chelsea boots can be suitable for individuals with wide feet, but it's important to choose models that offer "wide" or "extra wide" sizes or designs that stretch on the side to accommodate the width of your feet comfortably.
For individuals with conditions like ingrown toenails or plantar fasciitis, how does the design of Chelsea boots affect their comfort and support?
The design and fit of Chelsea boots can have positive and negative effects on the comfort and support of individuals suffering from conditions like ingrown nails or plantar fasciitis. The snug fit and closed-toe design of Chelsea boots can help protect toes with ingrown toenails from external pressure and further injury as long as they have a box wide enough to comfortably accommodate the toes and prevent further compression and irritation of toes with ingrown nails. Chelsea boots usually come with a supportive arch and sole that help with alleviating the discomfort and pain often associated with plantar fascia. Avoid getting Chelsea boots that lack support, as they may contribute to arch fatigue and plantar fasciitis. For maximizing your support and comfort, opt for Chelsea boots that bring good arch support or that have removable insoles which you can then replace with customized orthotics for maximal comfort.
Could you share some tips for maintaining the cleanliness of the boot's interior to promote optimal foot health?
Lysol Disinfectant Spray: Lysol is able to kill 99.9% of bacteria, viruses, and fungus. Fungal organisms commonly grow in moist, dark places, making the inside of shoes an unfortunately ideal environment for fungal growth. Use Lysol disinfectant for your shoes, including on your insoles, to disinfect and get rid of these germs. You shouldn't spray Lysol on your skin directly, as this can cause skin irritation. You should also wipe down the inside of your boots before wearing them.
Ultraviolet Sanitizing Device: Ultraviolet Sanitizing Devices are able to fit snugly into your boots. They have antimicrobial properties and send out ultraviolet light to help more thoroughly eliminate germs.
Foot Powder or Antifungal Sprays: These products can help control moisture and prevent fungal infections.
Rotate Boots or Insoles: Give your boots or insoles a chance to air out to reduce moisture and odor buildup.
Moisture-Wicking Socks: Use moisture-wicking or breathable socks made from Merino.
Dry Wet Boots Properly: Make sure your boots are always dry between use, as moisture will increase the growth of microorganisms.
Maintain proper hygiene of your feet: Make sure you clean your boots with warm water and soap and dry them thoroughly before putting on your boots to prevent the transfer of germs into your boots.
The Chelsea boot is a solution recommended by podiatrists since it is both fashionable and good for your feet. Chelsea boots provide comfort and style thanks to their slip-on construction, low heel, and ankle support. You may give your feet the support and comfort they need all day long by purchasing a pair of shoes from a brand that comes highly recommended by a podiatrist, such as Dr. Comfort, Vionic, Clarks, or Ecco. When you can have the best of both worlds, why settle? Chelsea boots are the pinnacle of style and comfort, so why not indulge yourself?
One pair of Chelsea boots that Gotham Footcare recommends is the Dr. Comfort Men's Classic Chelsea Boot due to its wide toe box, cushioned padding, and sturdy outsole.
The podiatrist-designed Vionic Women's Serena Ankle Boot provides superior arch support and stability thanks to its heel cup.
The Clarks Men's Bushacre 2 Chelsea Boot is another great choice; it provides all-day comfort thanks to its cushioned footbed and flexible outsole.
The sturdy heel and anatomically contoured footbed of the Ecco Women's Shape 25 Chelsea Boot make for a pleasant stroll.
If you're having trouble finding the right pair of shoes, you should consult a podiatrist or another footwear specialist.