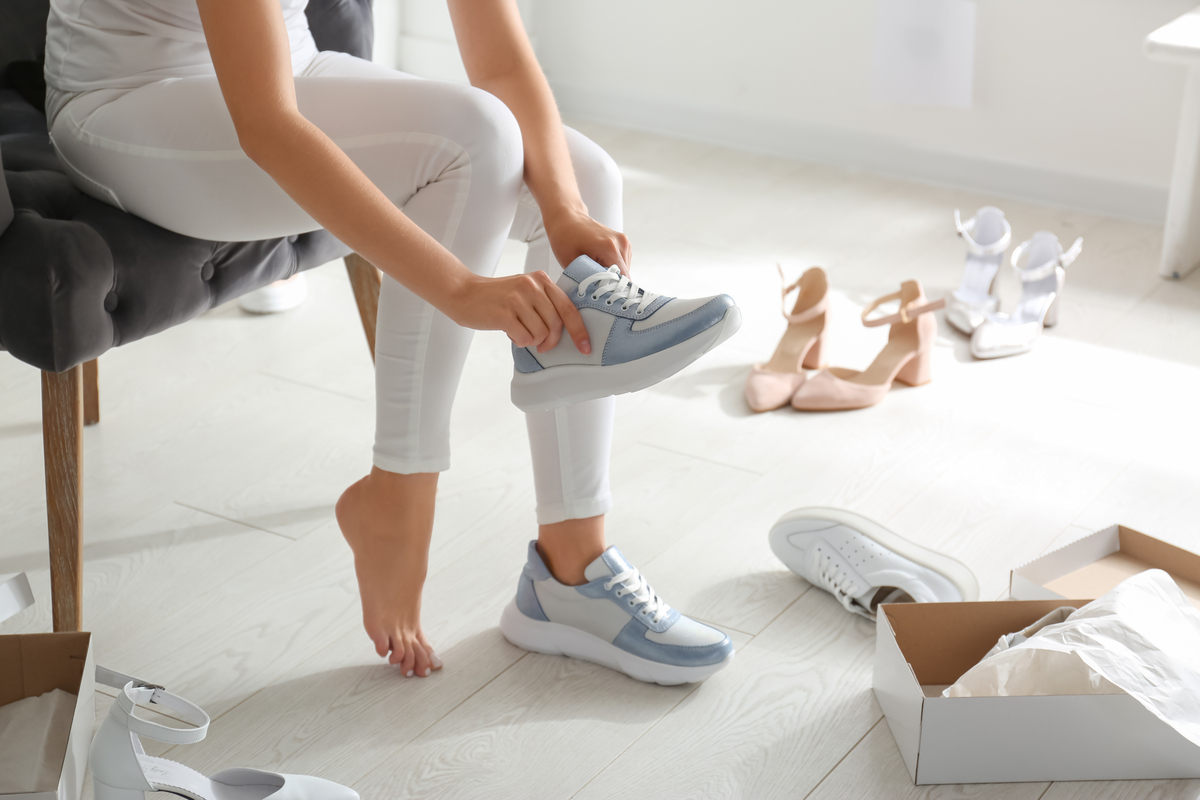 WHAT SHOULD YOU LOOK FOR IN A SHOE?
The shoe market could be incredibly overwhelming when it comes to picking the right sneaker. While each person's foot is different and may require some special attention, the 3 most important features that you should look for in a shoe are:
Rigid shank: In order to tell if the shoe is rigid enough, you want to take the shoe and bend it in half. You shouldn't be able to, because the shank is the actual structure of the shoe and should be rigid to hold up and support the arch.
Rigid heel counter: Squeeze the heel of the shoe to see how firm it is. There should be a good bit of padding called an ankle collar which is intended to protect and cushion the ankle and the achilles tendon. You shouldn't be able to compress it – so when you are moving it supports the heel.
Wide forefoot: Most of the problems that occur with our feet - particularly for woman, and often for runners - are that our shoes don't have a wide enough forefoot. Bunions, hammer toes, neuromas, ingrown toenails, etc. are all caused by this if you don't have a wide forefoot. In order to determine whether the forefront is wide enough, I suggest that you trace your foot onto a piece of paper at the end of the day when your feet are most swollen. Then place the shoe over the tracing of the foot. If the tracing of the foot is external to the periphery of the shoe then you know that your shoes are too narrow.
WHAT ARE SOME SIGNS THAT YOU'RE WEARING THE WRONG SHOE FOR RUNNING (OR ANY WORKOUT)?
Heel pain or arch pain: If you frequently have heel or arch pain following a run you are likely suffering from plantar fasciitis which is the inflammation of the ligament that runs along the sole of your foot. Because the ligament attaches to the bottom of your heel bone, pain is often felt in your heel as well. Your running shoe likely lacks a well-cushioned footbed and anatomical arch support to hold the plantar fascia and prevent it from collapsing to minimize fatigue and pain associated with flat feet.
Ingrown toenails: An ingrown toenail is a common condition typically affecting the great toe, in which the corner or side of the nail becomes incurvated (turned inward) and grows into the skin and soft flesh of the toe. This results in irritation of the surrounding soft tissue, often causing pain, redness, swelling, warmth, and sometimes infection. Many things can cause an ingrown toenail – it could be genetic, you could be clipping your toenails incorrectly or you could be wearing the wrong size shoe which tends to squeeze the larger toe causing ingrown.
Inner knee pain or sprained ankles: People who commonly sprain their ankles or have outer knee pain tend to be supinators because they have higher arches and roll outward. Supinators should look for shoes with soft, flexible midsoles and look as if they don't have an arch but are rather filled in with more sole and cushioning as this foot type doesn't provide enough shock absorption on its own. When picking a running shoe pick one with extra rubber incorporated into the sole which translates to a smoother and bouncier gait.
CAN WEARING THE WRONG SHOE LEAD TO FOOT PROBLEMS DOWN THE LINE?
Yes, your feet are the gateway to the rest of your body. Wearing the wrong shoes for too long or ignoring foot pain can only exacerbate it. If you have chronic ingrown toenails you may have to have the entire nail removed eventually, if you have inner knee pain this could lead to back issues, etc. It's important to see a podiatrist for persistent shoe pain so they can properly diagnose the issue.
COULD HAVING THE RIGHT SHOE HELP REDUCE JOINT PAIN THAT'S OFTEN ASSOCIATED WITH RUNNING? WHY?
Having the right shoe could help reduce joint pain that is associated with running because it accommodates the foot by maintaining proper biomechanics and distribution of body weight across several joints rather than accumulating weight and stress at one joint.