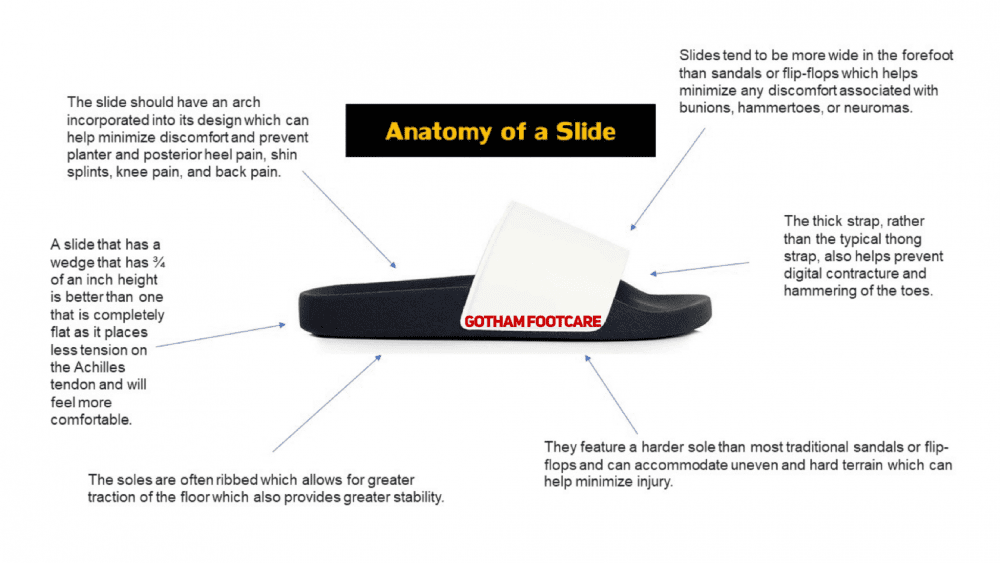 Summer slides are everywhere! But that's not surprising. They are versatile, convenient, fashionable, and comfortable. The shoes have more oomph than your traditional sandals or flip-flops and can satisfy the needs of any high end fashionista. Summer slides come in a variety of colors, materials, and styles and just about every fashion designer has put their own spin on the slide. They are undoubtedly convenient as you can just slip them on and off as you go from indoors to outdoors. They're one of the best shoe options for the summer. They're MUCH better than flip-flops. Check out the detailed image and read on to understand why summer slides should replace your flip-flops.
Now, we all wear flip-flops. In every corner of the world, except the really cold ones (Hello Santa!), people wear flip-flops. And how could we not?! They are easy to slip on, comfortable, affordable, and they come in an infinite number of styles. They are the most common summer shoe and wearing them is not bad for your feet depending on the activity and for how long you're wearing them. If you choose to wear flip-flops regularly, be sure to wear flip-flops that have some arch support, a cushioned sole, and supportive straps. The best situations to wear flip-flops are at the beach, around swimming pools, in public change rooms, and around the house. You should never wear flip-flops during activities that involve running and hiking, and even walking or standing for prolonged periods of time. Most flip-flops do not offer any arch or heel support, and with every step you are curling your toes to grip your flip-flop (unless you're dragging your feet which is another problem all its own). Walking with flip-flops for prolonged periods of time allows your foot to collapse, due to the lack of arch support, affecting your gait and posture, which can lead to a tremendous amount of stress not only to the foot but to the rest of the body. Our feet naturally pronate (turn inward) during the gait (aka step) cycle, however when we wear flip-flops we pronate for a longer period of time which then alters the biomechanics and distribution of pressure and weight across the foot. This imbalance may increase the progression of underlying foot deformities, such as bunions and hammertoes, and lead to painful conditions associated with excessive pronation, such as arch/heel pain, shin splints/posterior tibial tendonitis, and Achilles tendonitis. This imbalance can then translate upward affecting other parts of the body such as our knees and back. That's why your body is so sore after walking around in flat flip-flops all day. Like I mentioned, if you're wearing flip-flops, stick to activities that require very little walking or standing. You have better shoe options.
If you really can't get enough of the flip-flop, consider the following styles: 1) VIONIC Bella II Sandals: These flip-flops are lightweight and have a flexible EVA (Ethyl Vinyl Acetate) footbed which absorbs shock, reducing stress on feet, ankles, and knees. These flip-flops are the only ones to have the approved seal of acceptance by American Podiatric Medical Association (APMA).
2) BIRKENSTOCK Gizeh EVA Flip-Flops: These flip-flops are modeled on the cork sandal and their footbed will offer the same comfort and arch support you would expect from other Birkenstocks. These flip-flops are also ultra lightweight, highly flexible, shock-absorbing, waterproof, and skin-friendly.
3) NIKE Ultra Comfort Thongs: These flip-flops have an arch incorporated into their design made of memory foam to provide added comfort and support.
So now, with the hot weather still upon is, make the right choice for your summer feet and always remember to love your feet!