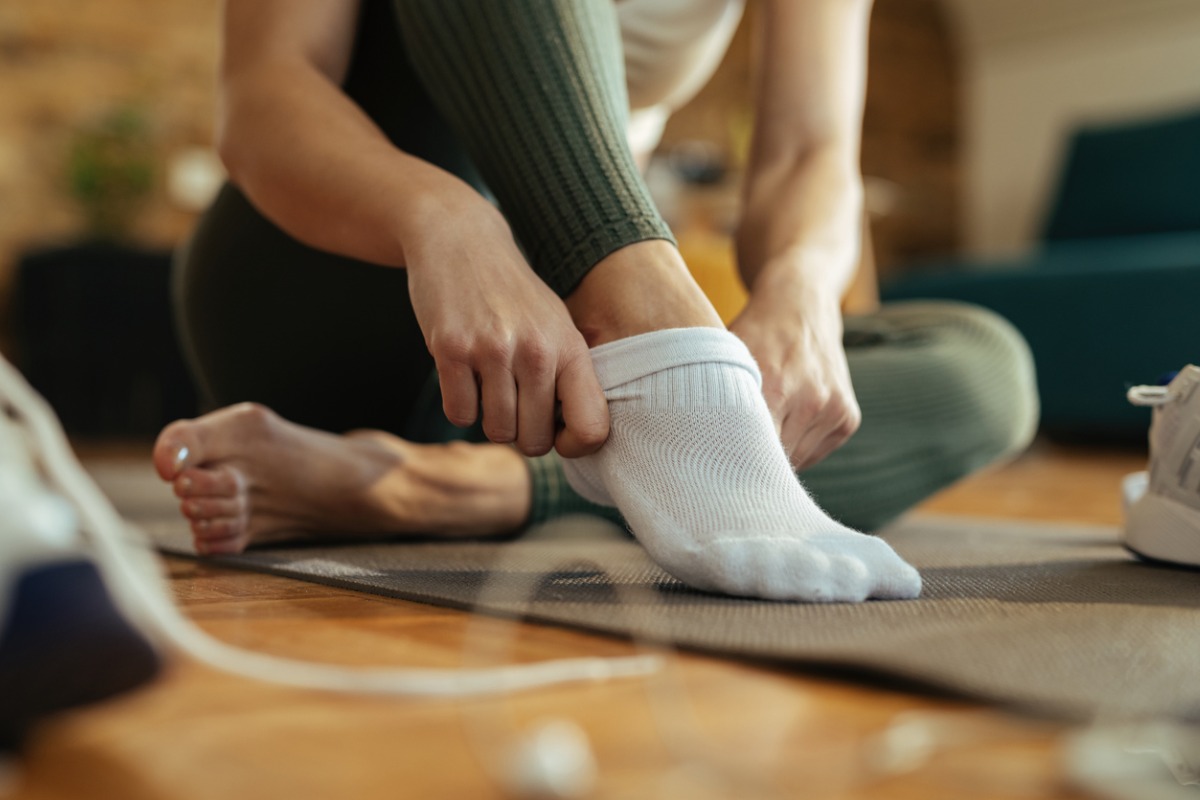 Similar to other clothing items, socks are used to provide a layer of warmth and protection between your skin and the outside surface. Once the socks have a hole from wear and tear then it is time to replace it. Socks should be changed regularly to avoid unpleasant smells and athlete's foot (a fungal infection). Fungus loves warm, damp and dark environments which makes your socks the ideal breeding place. My suggestion is to change your socks at least once a day. More than once if you are performing a high level of activities that make you perspire a lot.
DOES WORKING OUT IN COTTON CAUSE BLISTERS? WHY?
It depends on if the socks are wet or too small, also if the shoe gear and the activity that you're doing with the socks. Repetitive forces cause stress on your skin, causing friction that break down your skin, causing a blister.
WHAT OTHER PROBLEMS CAN ARISE FROM WEARING THE WRONG TYPE OF SOCKS WITH SNEAKERS/DURING A WORKOUT?
You want to have socks that wick away moisture. Moisture increases the likelihood possibly developing a bacterial infection, fungal infection, or an odor. There are socks that may be ideal for temperature and warmth because they actually insulate your feet in the winter, but for the purposes of exercise, you want a sock that is soft, but also wicks away moisture. Foot moisture in and of itself does not cause a bacterial or fungal infection but can certainly cause an existing infection to spread. Fungus is an organism similar to a mold that feeds off dead skin and nails and proliferates in dark and moist environments such as the inside of a shoe. Foot odor is primarily caused by a lack of ventilation of foot perspiration. Feet start to smell when the perspiration has nowhere to evaporate. Sweat itself does not in fact smell. The smell comes from normal skin bacteria breaking down the secretions released from the sweat glands in our feet and producing isovaleric acid, causing the odor.
WHAT ARE THE BEST SOCK FABRICS TO KEEP AN EYE OUT FOR—AND WHY?
Merino Wool is light, soft, and has microbial properties.
DO YOU EVER RECOMMEND COMPRESSION SOCKS TO YOUR PATIENTS? WHY OR WHY NOT?
I recommend compression socks to my patients that have swelling in the lower extremity and associated pain or discomfort resulting from venous insufficiency, lymphatic damage, and/or injury.
IN YOUR OPINION, ARE THERE BENEFITS TO COMPRESSION SOCKS? IF SO, WHAT ARE THEY?
When worn correctly compression socks are very beneficial in providing good circulation of the blood flow in the feet and legs. The consistent pressure along the feet and legs along with movement promotes blood flow up from your ankles through the veins in your legs and back towards your heart. This will reduce aches and pains usually caused by blood flow problems.
WHO SHOULD WEAR COMPRESSION SOCKS?
Compression socks should be worn by patients that have circulation problems, such as DVT, varicose veins and diabetes, post-operative patients, pregnant women, people who stand or sit for long periods of time, and athletes especially those who run for prolonged periods of time.
WHAT SHOULD SOMEONE LOOK FOR IN A PAIR OF COMPRESSION SOCKS? WHAT IS THE BEST WAY TO GAUGE THE AMOUNT OF PRESSURE IN COMPRESSION SOCKS?
When looking for a pair of compression socks one should first measure the circumference of the ankle, calf, and thigh as well as the length from your knee or thigh to the floor with a tape measure to determine the size needed. Once you determine the size, the next step is to determine the amount of compression based on your needs. Medical grade socks are usually graduated, which means they start tighter at the foot and ankle and gradually get looser towards the top. The design helps prevent the socks from cutting off circulation.
Compression stockings come in five levels of pressure applied to the leg. The higher the number the greater the compression. Under 15 mmHG socks are recommended for patients that stand or sit for long periods of time or healthy active patients to control minor swelling, energize your legs, and provide relief of discomfort. 15-20 mmHg socks provides mild compression and relief from minor to moderate swelling, aching, and varicose veins especially during pregnancy or in people with foot and ankle swelling who travel by plane to help prevent deep vein thrombosis. 20-30 mmHg socks is the category most frequently prescribed pressure by physicians sometimes used to provide relief from varicose veins, edema, deep vein thrombosis, and following vascular surgery. 30-40 mmHg socks are often prescribed to provide relief from severe edema, varicose veins, and DVTs and venous stasis ulcers. 40-50 mmHg socks have the highest level of compression available and should only be worn under medical supervision. This level is typically used to treat chronic venous insufficiency and DVTs.