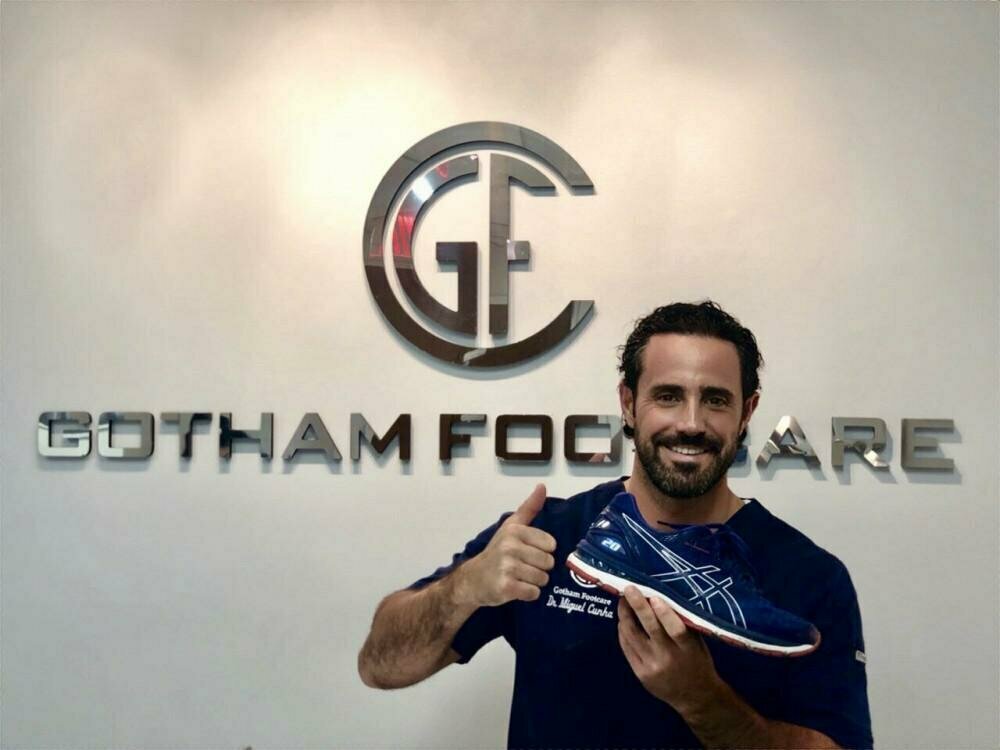 'Tis the season for runners, and runners everywhere are gearing up to put their feet through an insurmountable amount of stress. Though your feet are built to run with you through your toughest journeys, you should still pay close attention to their needs. The biggest disservice you can do for your feet is picking the incorrect footwear. Ignoring little details when picking out your sneakers can cause a lot of pain down the road. Here are a few tips that can help you be more aware of factors that you should pay close attention to for the next time you purchase a pair of running shoes.
Size Matters!
Always make sure you are running with comfortable shoes! This means wearing properly fitted shoes. A lot of foot ailments can be traced back to ill fitted footwear. From bunions to hammertoes, a shoe that fits a little too snug may catalyze these conditions. You definitely do not want a shoe that distorts the natural shape of your foot.
Using a brannock device to measure for both length and width may help you understand your sizing a little better. Keep in mind that even though you may be done growing, the width of your feet will change over time because of ligament laxity, falling arches, or hormonal changes.
Even if you use a brannock device to take your measurements, it's always important to note that your shoe size will vary with different brands. Rather than ordering your shoes offline, you want to physically go to a store and try them on just to ensure they fit correctly. Also, when trying on shoes, always try them on at the end of the day when your feet are most swollen. Chances are that if it feels comfortable at the end of the day, it is more than likely that your feet will be comfortable throughout the day.
While you should be steering clear of a shoe that may be too tight, you should also be conscious of a shoe that gives you a little too much wiggle room. This can cause you to adjust your walking in a dysfunctional way which can lead to foot problems. The most room you should leave for your feet is half a size. Because running sneakers are designed for comfort and function, half a size can help with circulation and minimize swelling of the feet which is actually beneficial.
Another tip that can help you with getting accurate sizing is using the tracing method. At the end of the day, trace your foot onto a piece of paper. Place a shoe over the tracing to see if the shoe covers the marks. If the outline of the foot exceeds the shoe, then the shoes are too narrow.
All in all, you want to be sure that your shoes are properly fitted to mold to the comfort of your feet. You should not have to adjust your comfort level for your shoes, your shoes are supposed to do that for you!
Know Where Your Needs Lie
A little tip is to inspect the soles of a worn pair of shoes. The wear pattern can tell you where you are placing your pressure with your movements. These observations can also help you understand what specific foot injuries you are more prone to develop. For example, if you are noticing that the inner part of your shoes are a little more worn out, that probably means you are a pronator. A pronator tends to roll their feet inward. This indicates that you may have flat feet. Flat feet can make you more susceptible to developing plantar fasciitis, achilles tendonitis, shin splints, or inner knee pains.
While you don't want flat feet, you also do not want high arches. This can cause your feet to supinate, which means your feet are folding outwards. This leaves you vulnerable to ankle sprains and outer knee pains.
Whether you are a pronator or supinator, it helps to understand where you are placing your pressure. When you have that understanding, it can help you look for a sneaker that can tailor to your needs. Different sneakers can help support different foot issues, and knowing where they lie can help you understand which brand or make of sneakers may be best suited for you.
Know What to Look For
First and foremost, always know that you cannot go wrong with a wide toe box. When you settle for a sneaker that has a narrow toe box, you are pushing your toes together, which can lead to deformities such as bunions, neuromas, and hammertoes. As fashionable as a tight toe box may look, it is not healthy for your feet. Always go for a shoe that supports the natural shape of the foot.
You also want to ensure that you are picking a shoe with a rigid shank. The shank of the shoe is located between the insole and the outsole. This piece provides support to hold up your arch. In order to see if the shoe has a rigid shank, you can do the folding test. This is when you take the shoe and bend it in half. If your shoe does not bend, it passed the rigid shank test. If it does, it is probably best if you move onto the next pair of shoes.
In addition to a rigid shank, you want to also make sure that you have a rigid heel. The firmness of the heel of the shoe supports our ankle. To test it out, you want to squeeze the heel of the shoe to ensure that it is firm. If the heel compresses, it is not a shoe that can provide our heel the support it needs.
A good flex point is also an important factor of a good running shoe. This means you want a shoe that matches the bending point of your foot. When the bending point does not match up, it can cause arch pain or even plantar fasciitis. Another important characteristic of a running shoe is a shoe with good shock absorbency. An outsole made of rubber will help alleviate the impact of each step as opposed to a shoe with a hard sole.
When it comes to sneakers, we tend to gravitate towards the hottest trends, however, let's be sure to keep in mind that there is more to a sneaker than just the style aspect.
Where Do I Find "The One!"
When shopping for sneakers, your main priority is to ensure that you understand and are supporting your feet's needs. Not everyone is expected to be a foot expert, however, know where to get the right information. You want to make sure that you are seeking opinions from a person who is fully knowledgeable with shoes. This means going to a specialty store where everyone in the store is well versed in their product so they can offer you a shoe that is best for you.
But wait, there's more!
Sometimes you might need a little more than just support from your sneakers. Custom orthotics can help give you that much needed stability that your sneakers are not able to target. A lot of the times, your feet need a little bit more than just the basics. Orthotics are recommended for anybody at any time as they are a custom support that will alleviate any symptoms of pain and discomfort while maintaining proper alignment of the body.
There are many downfalls to wearing the wrong running sneaker, however, wearing the right shoe can make a world of a difference. Avoid ailments such as plantar fasciitis, runner's knee, or even early-onset arthritis by paying attention to your feet gear. Your feet can define your overall health, and it all starts with the little things. Are you paying attention?