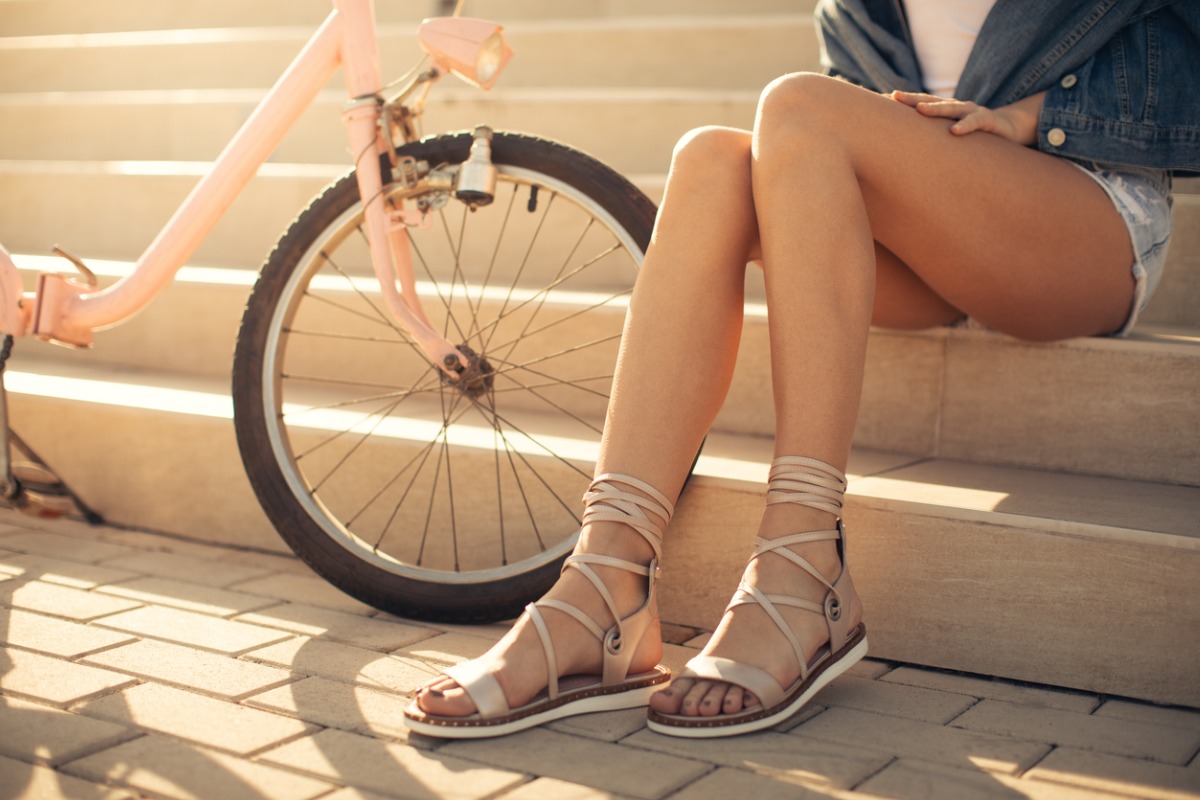 What should you look for when buying sandals?
When buying sandals you should try on shoes at the end of the day to ensure a more accurate fit. A lot of times people buy their sandals at the beginning of the day when your body is in equilibrium when their feet are at the smallest state compared to the end of the day when gravity has pulled all the fluid down and feet are most swollen. So if the sandal fits well at the end of the day it is most likely to feel comfortable throughout the day.
Also, the sandal should have somewhat a slight heel less than 3/4 inch in relation to the front is actually better for you than sandals that are flat because it takes the stress off the achilles which can help with the alignment of your posture, ankles, knees and spine. Also ensure that the sandal is wide enough in the forefoot but also that the straps are not to loose to avoid injury. Make sure the sandal is also not flimsy in the middle. If it bends easily than you are not getting adequate support in the arch and you will get foot pain such as arch pain , heel pain. And you don't want a sandal that your toes are contracting similar to flip flops. At every step your foot is exercising to hold on to the sandals and overtime it can cause foot pain, or imbalance issues.
A sandal with a heel over a 3/4 inch is also bad because it throws your posture off. This misalignment can lead to pain in your feet, ankles, knees and back. A completely flat sandal means your foot is constantly pronating and that is the reason why people develop hammer toes, bunions and foot pain because of lack of adequate support. A 3/4 inch heel takes away a lot of the stress from the achilles tendon which then lessens the effect of pronation.
How can you tell if a shoe has shock absorption?
You can tell if a shoe has shock absorption if it has a thick ribbed rubber sole with an arch indent and it does not permit you to bend the shoe in the middle.
Are there any sandals in particular you'd recommend for all day comfort?
When looking for a sandal to purchase a safe choice if you are not sure is to purchase a sandal that has the APMA (American Podiatric Medical Association) seal of approval. These sandals will have a generous amount of arch support, for instance shoes from: ABEO, Aetrex, Chaco, FIT-FLOP, Strive Footwear, Naot, and Vionic shoes.
Why can sandals be hard on your feet?
Sandals can be hard on your feet if they have a thin and flat sole that provides no arch support nor shock absorption. This can lead to heel pain, in particular plantar fasciitis, an inflammation of the tendon that runs underneath your foot. Knee pain and back pain can also develop with time. If the sandal also doesn't have an ankle strap for additional stability this can also lead to a higher probability of twisted or sprained ankles.