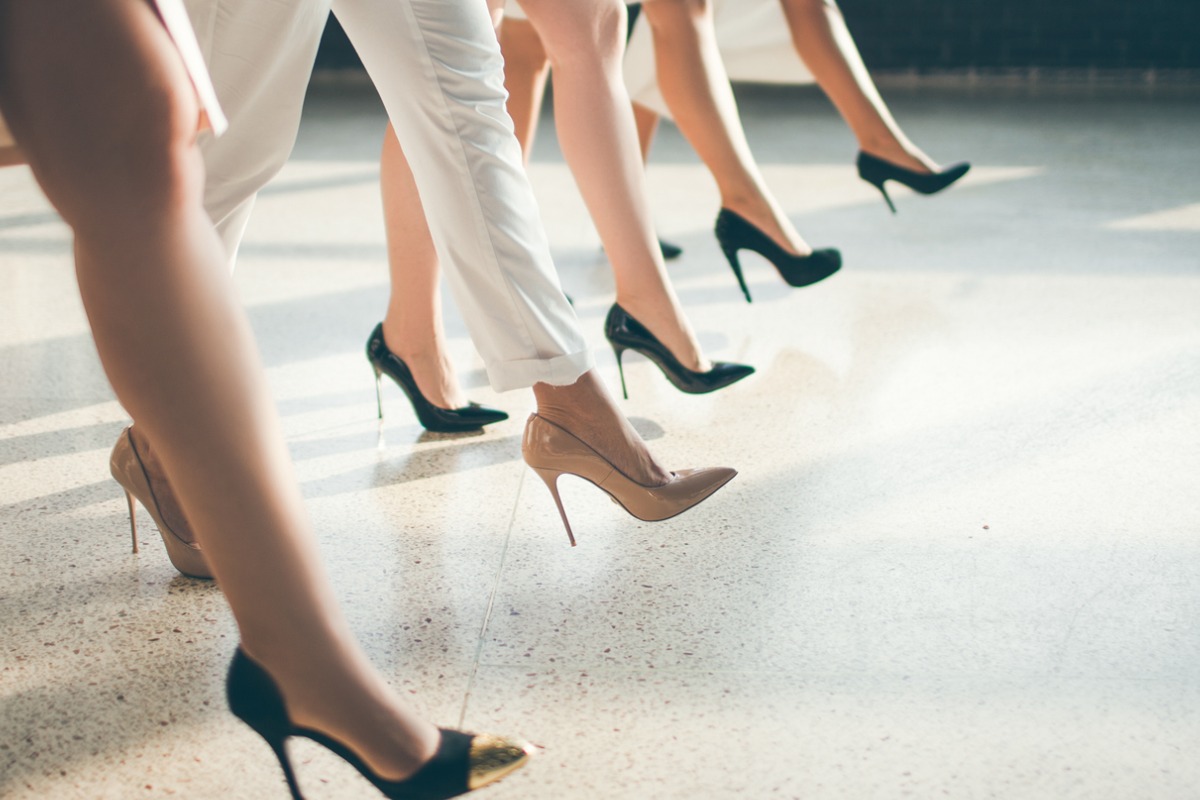 WHY EXACTLY IS THE IDEAL HEEL HEIGHT
I recommend to look for a shoe that has a 1 inch heel or wedge height rather than one that is completely flat as it places less tension on the Achilles tendon and will feel more comfortable. I recommend avoiding shoes that are completely flat as they will contribute to pronation and collapse of the arch which may contribute to planter and posterior heel pain, shin splints, knee pain, and back pain. I also recommend a shoe that has an arch incorporated into its design, which can also help minimize discomfort.
IS THIS HEEL HEIGHT BETTER THAN WEARING FLATS/SANDALS WITH NO HEEL OR ARCH AT ALL?
A 1 inch heel is better than flats with no heel or arch support because it supports your arch.
WHAT ARE THE LONG-TERM EFFECTS, IF ANY, OF WEARING HIGH-HEELS AND/OR SHOES WITH NO HEEL? CAN IT LEAD TO ISSUES OTHER THAN FOOT PAIN, FOR EXAMPLE, KNEE OR BACK PAIN?
Long term effects to wearing high heels include damage to the toe nails. Wearing high heels compresses the toes together causing the big toe nail to grow into the skin and eventually resulting in an ingrown toenail. High heels also aggravate the symptoms and progression of bunion deformities as the shape of the shoe does not accommodate the normal structure of the forefoot. A heel-type shoe will press up against the great toe pushing it over towards the second toe further exacerbating bunion deformities. When wearing high heels most of your body weight is pushed forward to the balls of your feet and this can lead to metatarsalgia. Shoes with a narrow toe box can also cause this condition. Hammertoes are also a condition developed by high heels. The heel height forces the toes to bend as they lean forward. Overtime, the bent toe can no longer straighten on its own. Wearing high heels can cause tendonitis. When wearing high heels you put constant pressure on the Achilles tendon by shortening and tightening it. Repeated and extended wear of high heels shorten the tendon permanently. This leads to inflammation and pain when you wear flat shoes and forces the tight tendon to stretch
YOU CAN OFTEN TELL A WOMAN IS UNCOMFORTABLE IN HEELS BY THE WAY SHE IS WALKING – FROM A DOCTOR'S POV, HOW CAN YOU TELL A WOMAN IS WEARING THE WRONG SHOES?
I can tell a woman is wearing the wrong shoes when her body is not positioned in a 90 degree angle with the ground. Her sway is longer, her chest is pushed forward while her buttocks is further back. The body weight pushes forward so the center of pressure is moved towards the balls of the feet. The walk translates to being a more jerky stride rather than smooth.
ASIDE FROM HEIGHT, ARE THERE ARE THINGS ONE SHOULD CONSIDER WHEN SELECTING HEELS?
When looking for heels one should look for a wider toe box to accommodate the toes comfortably. This can reduce the probability of developing Morton's Neuroma or aggravating an existing bunion deformity. Ankle Straps help support the shoe on the foot and eliminates the need for your toes to hang onto the shoe thus reducing the development of hammertoes. A platform allows to increase height without compensating the arch however you have to keep in mind that the height difference between the front and back of the shoe is no more than an inch.
IS THERE A MAX HEEL HEIGHT YOU RECOMMEND NOT GOING ABOVE?
Never go over 3 inches in heel height because it changes the biomechanics of how you walk. This leads to shorter strides, more pressure is placed on the balls of your feet which throws off your center of gravity putting unneeded and unnecessary stress on your knees and lower back.
Proper fitting shoes provide a proper platform for our feet to support our body. Shoes that are too big means you will be accommodating the improper fitted size in a dysfunctional way and can lead to foot problems. I suggest getting your feet measured for length and width with a brannock device and get the right fitted shoe. It is important to take into consideration that size of shoes varies from company to company.
Heels are designed for fashion; they are not made for comfort. Heels alter the ability of the foot to absorb shock evenly across the foot and to hold up our body weight. A larger sized heel will still force the distribution of weight onto the ball of your foot and compact your toes into a small space which will still lead to the progression of bunions when you are predisposed to having them.
IS IT POSSIBLE THAT YEARS OF WEARING HIGH HEELS CAN LEAD TO ARTHRITIS OF THE TOE JOINTS? WHY/WHY NOT?
It is possible that years of wearing high heels can lead to arthritis of the toe joints. When you wear heels you shift your center of gravity forward leading to a biomechanical imbalance that alters the pressure distribution of weight across your foot and onto your toe joints. The accumulation of weight onto your toe joints over time may lead to the erosion of cartilage and the formation of boney spurs that restrict the motion of your toes ultimately leading to painful and debilitating arthritis.